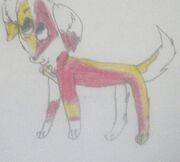 Tina is an oc owned by Eva1234dog 
Living in the western side of California , Tina is a total western girl , she has the accent and everything , She loves to wear he favorite sparkley pink cowboy hat ,   she likes to chase the chickens but she once chased the baby chicks  , but over protective mommy chicken came to kick to her bottom . ( poor thing XD . ) She likes to sleep on the couch and cuddle up by the fire in her owners home , when its snows out she puts this adorable out fit that she loves and never wants to get dirty with it on her brother is bolt , her owner is Penny's aunt .
personality
Edit
She's the sweet little thing and loves to chase bugs and anything that's very small , she has short fusses around 5-6 because they bother her to much , she gets hyper when she hears a squeaky toy , she is a tom , she loves to get muddy and swim in any tye of water even if it is dirty .
appearance
Edit
From her back to the back of her left back leg is orange yellow and it travels to the tail and out side of the yellow is a redish pink color and  has a reddish pink and yellow mask on her face , the left is that  travels up to her neck ,  yellow and the right is reddish pink , her left ear is yellow tipped and her right ear is reddish pink , her front legs have yellow and reddish pink legs . she has a yellow patch on her chest .  
She fell in love with a boy named Cielo  ( which means sky in Spanish )
They had some puppies named Chocolate , Vanilla , Honey and strawberry .
If you notice her left back leg is the only leg with out a design .
voice actors 
Lou from bunked but more western- in her child hood
Marybelle from Jessie - teen and adult .
Catchphrases in storys 
yipp yipp
lets bust it open 
for the love of Aisa