Adopted from Chandlerscout. Patch is owned by
RockytheEco-pup
.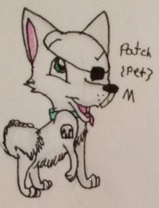 Patch is a pup who was adopted from a rescue shelter by a young boy and his father. Prior to being adopted, he lived with a man and his cat. The cat didn't like him at all and got into fights with him. The cat scratched his left eye badly blinding it. He was given an eye patch by the vet to cover the eye. Fearing that Patch was neglected at home, the vet forcibly took him away and put him in the animal rescue center. Once he was adopted, he spent most days with the boy and when he plays outside, he befriends a cat named Milo who is a stray cat. Their favorite thing to do is chase each other in the backyard.
Appearance
Edit
Patch is a white male pup with a fluffy chest and tail. He has pointy ears and green eyes. He wears a teal collar and has an eye patch over his left eye.
Personality
Edit
Patch is an active pup who despite his activeness, can be rather shy and get nervous when difficult situations arise. He loves to dig and roll on the grass.
By Others:
Edit
He is blind in his left eye.
He is shy.
His best friend is Milo.
He was adopted from Chandlerscout on DA.